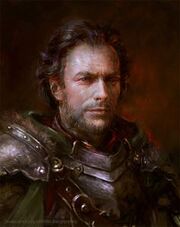 A knight ennobled for his service to House Sistorian, despite his common background. His origin made him unpopular with the Sistorian nobility, but he was a passionate and talented leader.
His passion took him close to riding against the standard of Renal Sistorian and answering his provocation during the Eclipse campaign, leading to Manlia Suren Issander, the High Palatine, flogging him and sending him naked and bloodied into the Republican ranks. The Inquisition took him captive and interrogated him.
Ad blocker interference detected!
Wikia is a free-to-use site that makes money from advertising. We have a modified experience for viewers using ad blockers

Wikia is not accessible if you've made further modifications. Remove the custom ad blocker rule(s) and the page will load as expected.